Good news
The stuck cargo ship was released, and the Suez Canal was finally open to navigation.
Suez, Egypt-The salvage team finally lifted the huge container ship stuck in the Suez Canal for nearly a week on Monday, ending the crisis, which has blocked one of the most important waterways in the world and stalled billions of dollars every day Maritime trade.
Although the crisis has been resolved, if you have goods that need to pass through the Suez Canal, I regret to tell you. You may have to wait a few more weeks before you can get the goods.
If you need to buy tattoo studio furniture now, I am happy to tell you that you are very lucky. Because our tattoo tools are all in stock, and the stock is still sufficient.
If you want to know about our product features and stock, please click to enter the following link. There will be a detailed answer here.
TatArtist focuses on manufacturing furniture for tattoo studios
Tattoo furniture is available
Tattoo Guest Chair-Electro-hydraulic, 4 styles are available
Tattoo master chair-ergonomic design, a total of 6 options
Tattoo workstation-multi-functional storage space, high-level and thick.
Portable Tattoo Tool Tray-Lightweight, full-featured, it can be used as a diy wall-mounted shelf to match as you wish.

Tattoo hand res

t-enlarged and widened hand rest, the soft surface can be tilted 0-180°, which is more suitable for tattoo artists.
Tattoo foot rest-Upgraded to make the tattoo artist's work more comfortable.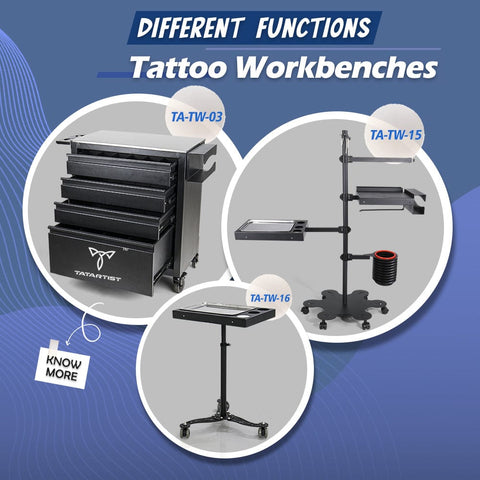 There are many products, and the advantages of the products are even more.
Can't count them one by one, please visit our website (
www.tatartist.com
) to know more.