1. Provide a very complete storage device bracket, container hole and drawer to meet all the needs of the tattoo artist's work.
2. Powerful tattoo workbench, durable, reliable, easy to clean, easy to use, is the best choice.
3. Add a high-level professional atmosphere to the tattoo studio, which is eye-catching.
4. The power socket can choose American, British, Australian, European plugs.
5. The tattoo workbench can be flexibly matched, the base and towel bar, hook kit, ink tank, tattoo lighting lamp, ipad holder and other components can be purchased separately.
4 heavy casters
4 drawers, 3 small + 1 large
The stainless steel platform has baffles to prevent items from falling
Side 2 hole ink tank
There is a storage rack on the left side of the workbench, which can store power cords, gloves, ink, tissue paper and other items.
DIY matching components: LED lighting, mobile phone holder, ipad holder, etc.
Every part and every component of the tattoo workbench is produced to the highest standard, which is a special tattoo furniture that tattoo artists must have. The seemingly simple tattoo workbench can meet the requirements of most tattoo studios and solve the trouble of storage. The black style is suitable for the mysterious, advanced atmosphere and style of the tattoo. Suitable for most tattoo artists and tattoo studios. If you are a tattoo artist seeking to be different, tatartist can create tattoo studio furniture with different shapes, colors and styles for you.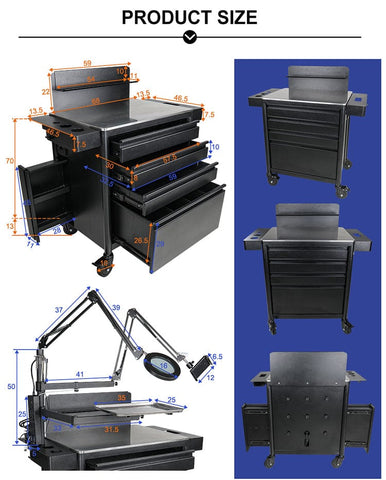 Tatartist tattoo tools are a brand from the United States. We hope to create the most suitable and coolest tattoo furniture for our customers. I hope that every tattoo artist and client who uses tatartist tattoo chair, tattoo bed, tattoo main chair, tattoo hand rest and foot rest will have a good sense of experience. If you are a creator with requirements, please join tatartist as an alliance!
Looking forward to seeing you.